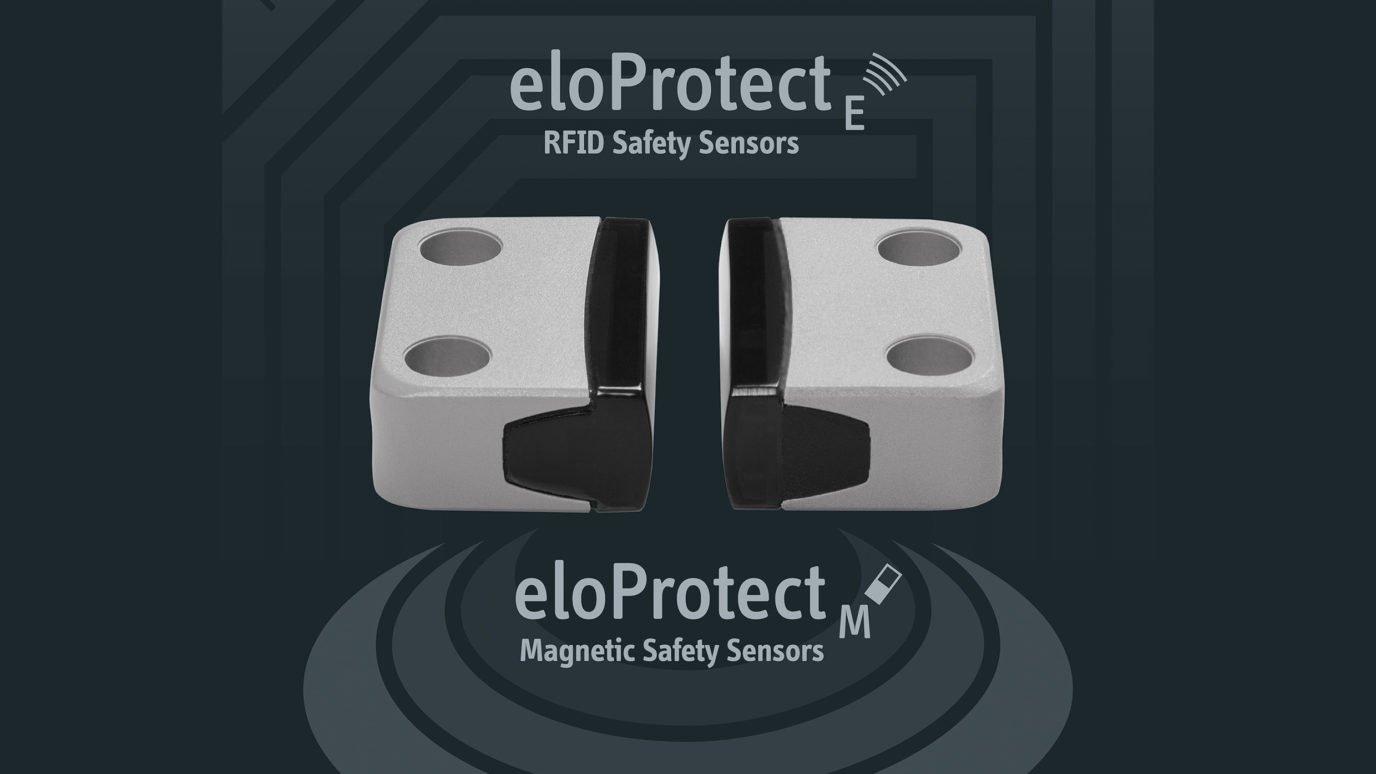 New eloProtectM safety sensors simplify integration in the machine safety concept.
The new safety sensors of the eloProtectM family mark the start of transitioning elobau's comprehensive line of machine safety sensors into the next generation. The magnetically actuated safety sensors were developed in accordance with EN ISO 14119:2011 and offer the machine designer increased protection against unauthorised manipulation.  The sensors, classified according to type 4, do not need to be concealed and thereby simplify installation.
The hermetically sealed inner workings of the sensor and the fully encapsulated housing considerably increase resistance against soiling and moisture. With protection classification of IP67 and IP6K9K, the two designs, with a low installation height of just 13 mm, are ideally suited for use in the food industry and in packaging technology. The resistance against alkaline and acidic compounds in the most common cleaning agents was taken into account during development and tested in accordance with the ECOLAB requirements. Through the high number of sensor variants, nearly any actuation function on moving guards can be realised. These can be performed, e.g., on the front or side, providing additional free space in the design. Thanks to hole dimensions that are compatible with existing sensor designs, no design changes are required on machines. The assured switching distance (Sa0) of up to 8 mm ensures reliable function. Concealed installation behind stainless steel walls – as is implemented, e.g., with food-processing machines – is thereby made possible. This concealed installation prevents deposits and simplifies the cleaning process prior to disinfection.
The new, two-sided mounting capability of the sensors makes possible a cable outlet in multiple directions and, thus, greater flexibility for the design engineer. An M12 pigtail with a 150 mm cable is available as an additional option. If there is existing cabling, an adapter from M12 to M8 is available. For use with commercially available safety control units and safety controllers, the two-channel sensors are available with N.O.-N.C or N.O.-N.O. switching contacts. The additional, selectable control contact is used for function monitoring and feedback to a control. An optical display can be realised via an optional LED, which, due to its brightness, can easily be seen even in poor visibility conditions. The LED is now also offered for N.O.-N.O. variants. Included in the scope of delivery are covers for the screw openings, which prevent easy removal, as required by EN ISO 14119.
Would you like to find out more about the eloProtectM safety sensors? Click here to directly access the product or to download the eloProtectM brochure. Get in touch with us. We look forward to hearing from you.