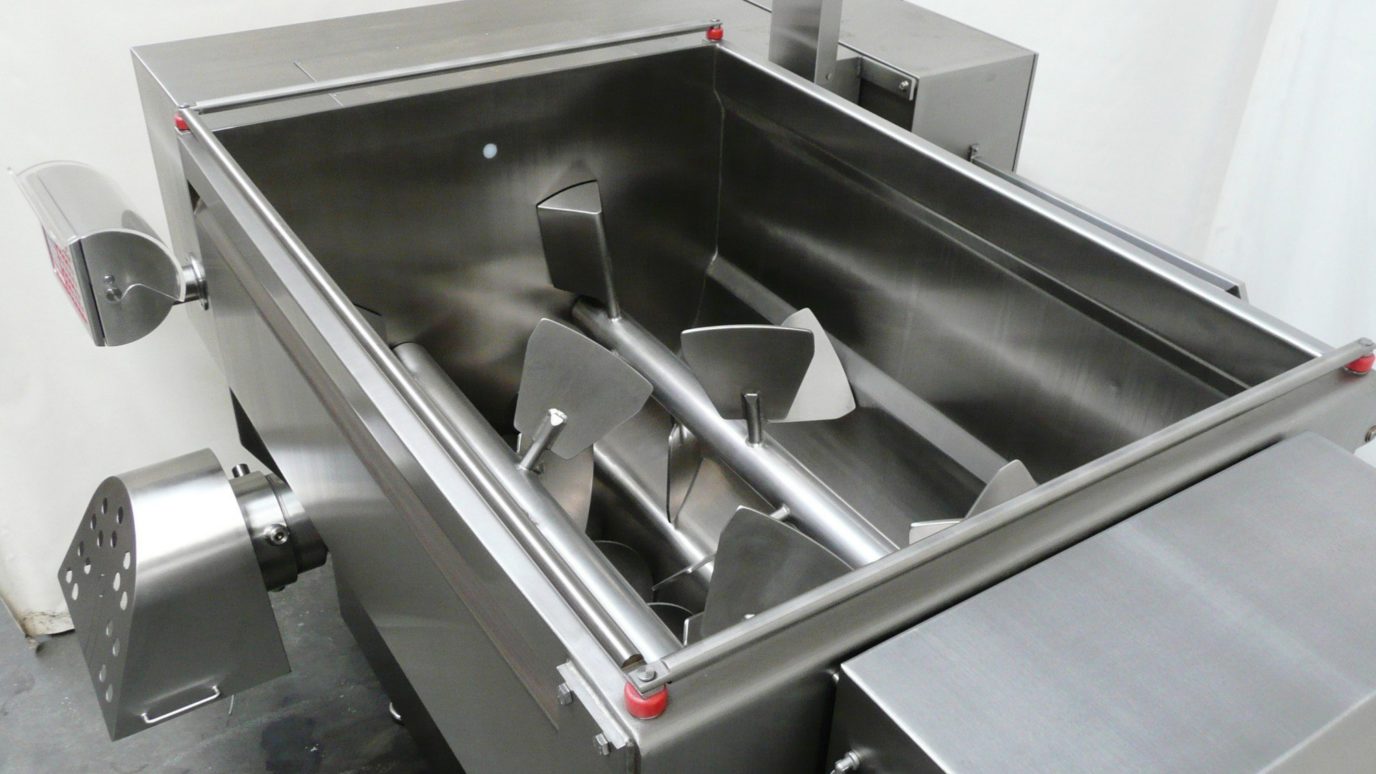 Many dangers from grinders, cutters and mixers
Contactless sensors safeguard the danger zone of meat processing machines.
Laska grinders, cutters and mixers are sophisticated meat processing machines that can pose significant hazards due to the knives located within them. Contactless sensors have proven to be the perfect components for monitoring flaps and locks for safety purposes. Not only are they reliable, but also very hygienic due to the fact that they have no edges, corners or slots.
Laska, headquartered in Traun near Linz, Austria, is a specialist for such modern manufacturing technologies for meat processing companies. The family business in its fourth generation has about 120 staff. Originally founded as a supplier for butchers, the meat processing machinery segment saw significant growth. After the introduction of manual machinery, Laska went on to specialise in the production of large-scale industrial machines. "We produce forward-looking products that can prevail on the market long-term", such is the motto at Laska. A slogan that Laska has lived up to for over 135 years with high-quality manufacturing technology. The company produces not only high-quality stainless steel cutters, grinders and mixers under the family and brand name LASKA, but also individually designed production lines. These consist of processing machines connected via work tables, conveyor belts, feeding screws, standardisation systems with automatic weight control, facilities for spice and water dosing as well as conveyors to the filling stations.
Powerful and safe
The operational performance of Laska products is one of its most important characteristics. But it is also important that the processing machinery can be handled safely. Oliver Pickl, who is responsible for the electrical engineering department, explains: "Our customers primarily focus on the reliability of the production process. Which is why it is up to us to design the machines as safely as possible, without interfering with production. This includes safeguarding all locations where tools and moving parts are within reach."
What this means: When safety doors, locks or flaps are open on meat processing machines or systems and the operator could potentially reach into the knife, the machine must stand still. Restarting must also be safely prevented. The risk of major cuts, crushing injuries, or burns is simply too great. Machines can be safely switched off either mechanically or by roller switches, etc., which are prone to contamination and failure, however, or safely and cleanly with contactless safety sensors.
To meet the requirements set out in the new safety standards (safety class SIL 3/PL e for meat processing machines), machine manufacturer Laska is supported by elobau GmbH, for whom safety technology has long been an important business aspect. The company from Leutkirch developed contactless safety switches for mechanical engineering and plant construction already back in the 1970s. This made elobau the world's first company to replace electro-mechanical components with reed contacts and coded magnets for the safety area. The company's steady further development yielded an extensive range of different sensors, interfaces and control units, offering an ideal solution for almost any situation. The principle of these contactless safety switches: They work with a magnetically actuated sensor, which is monitored by a control unit. Depending on the system, up to 40 sensors can be monitored with one unit. The monitoring of downstream contactors is possible with almost all models. Some models feature an additional, separate circuit for emergency stop buttons and two-handed operation. These systems ensure a high level of risk minimisation and are certified by TÜV.
Contactless principle trumps mechanical principle
Oliver Pickl has known elobau for a long time: "We have been successfully using the contactless safety switches from elobau for more than ten years. Previously, we used mechanical safety equipment, which came with a few caveats, however, such as mechanical wear, susceptibility to contamination and small installation tolerances. Contactless actuation with a safety controller is ideal, on the other hand, as this provides reliable switching and is easy to clean. We are using these devices to secure removable covers, without which the machines cannot be operated." This means that elobau sensors and control units are used with grinders, among other things.
This means that elobau sensors and control units are used with grinders, among other things. They check whether the counter flange for the feeder screw is mounted. And they are also used for trough monitoring: A plunger-operated switch checks all four corners of the trough for whether a person or object is leaning over the edge of the trough into the danger zone. Monitoring takes place via an elobau control unit, which is an important instrument for machine operators, that allows them to quickly identify and categorise error messages.
Laska is constantly looking for ways to improve their safety technology. Oliver Pickl offers an example: "The cutting set cover of the emulsifier was previously equipped with a cylindrical proximity switch. As this sensor is located near the final product, we decided to switch to a stainless steel variant of the sensor and magnet."
What was needed: switching reliability and resilience
The electrical engineer sums it up: "We have tested many products over the last couple of years, and we have determined that the safety technology from elobau is characterised by high quality and functional safety. The food sector places high requirements on hygiene. This results in extreme conditions, which demand quite a bit of resilience of the sensors. Some are directly exposed to the high-pressure washer and aggressive cleaning agents. Stainless steel and resilient plastics are best suited to handle these conditions long-term, which is why we largely opted for these materials in our systems and components."
For the sensors this means: protection class IP 67 – IP 69K is mandatory. And also a high switching reliability. Because even in case of dirt and corrosion, the evaluation must still work or the device must be safely switched off if the effect becomes too severe. As an additional argument in favour of elobau safety switches, Pickl points out that the actuator magnet is coded. This means that it would be very difficult for the machine operator to manipulate the device in a safety-critical manner.
But elobau sensors offer even more advantages, such as easy assembly and commissioning, for example. A simple fixture on the door frame with a drill hole into which the machine safety sensors are screwed is all that is needed. The offset values between magnet and sensor also play an important role for easy and reliable adjusting. Depending on the version, this can be up to ± 4 mm in order to maintain a safe switching function.