J7 joysticks put to the endurance test
KLEMM Bohrtechnik has transformed the operation of their mobile drilling machines for specialist civil engineering from hydraulic to electronic operator controls.
Precise drill control in the toughest outdoor environments
KLEMM Bohrtechnik has transformed the operation of their mobile drilling machines for specialist civil engineering from hydraulic to electronic operator controls.
Most mobile construction and agricultural machinery on the market is still hydraulically controlled. However, recently, there has been a notable trend towards electronically controlled operation. The reason for this? A wider range of control options, a smaller footprint and lower life cycle costs. These advantages also prompted KLEMM Bohrtechnik ("KLEMM"), a company based in north-west Germany, to convert their mobile drills for specialist civil engineering from hydraulic to electronic operator controls. The firm opted for joysticks from elobau's J7 series to operate their powerful machines.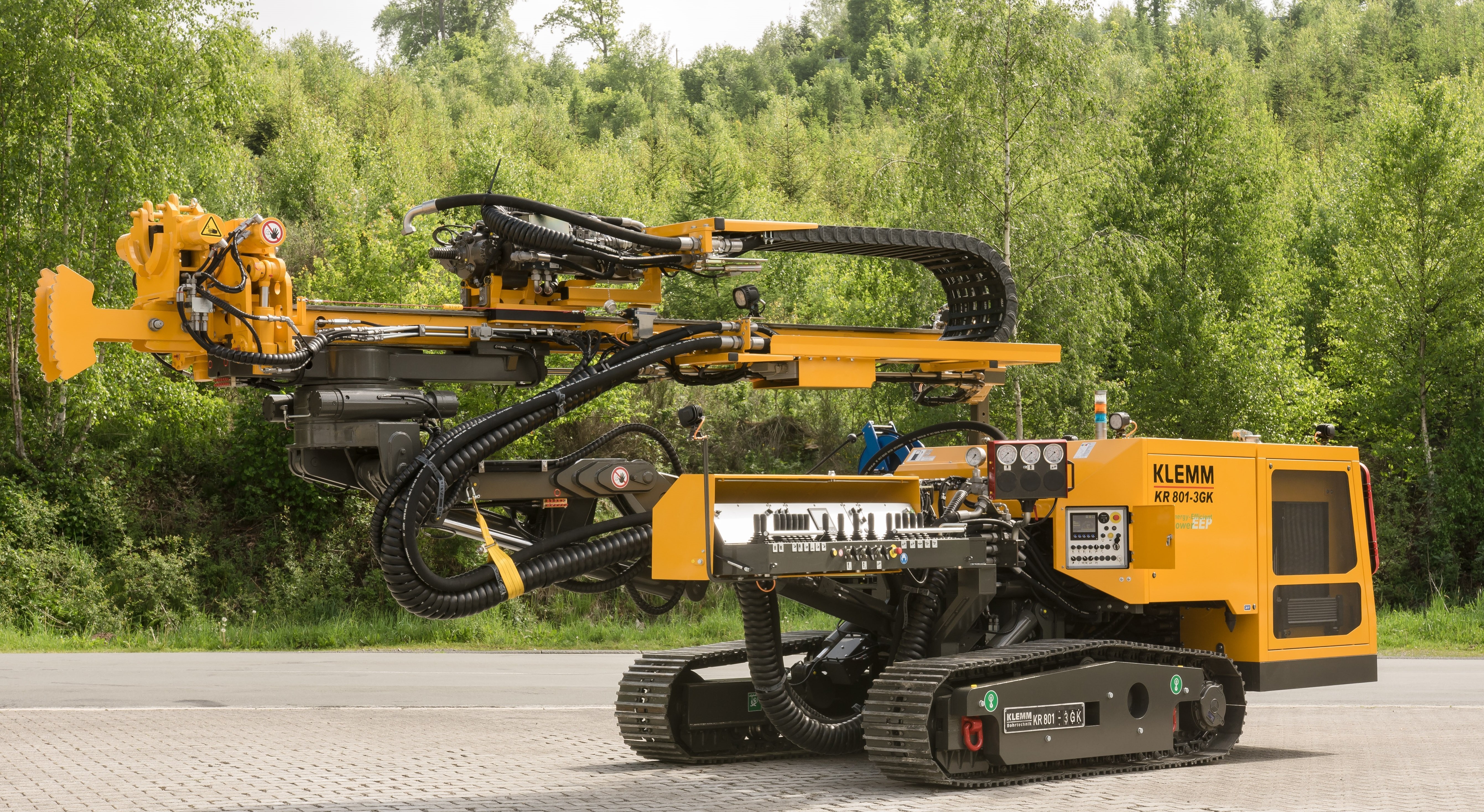 When controlling specialist machines and off-highway vehicles, electronic operator controls offer a great deal of advantages in contrast to conventional hydraulic solutions. This is because they can be programmed individually, so that manufacturers of construction and agricultural machinery can adjust their operator controls to meet the needs of their customers even more precisely, with a more dynamic response, for example (unlike hydraulics, where a constant oil pressure is always required for actuation). Furthermore, electronic operator controls save significant amounts of space, as hydraulic hoses are no longer required. They also generally require less maintenance which contributes to reducing life-cycle costs.
All these advantages won over KLEMM Bohrtechnik. The international specialist develops particularly high-quality, powerful drills, with a total weight of up to 32 t. The company has become a pioneer in the development of anchor drilling technology in the last fifteen years. Today, the products and services range from drills to hydraulic hammer drills and rotary drives, through to other drilling equipment. KLEMM Bohrtechnik is part of the BAUER Group, which has over 110 subsidiaries that are active in 70 countries worldwide. In the construction, machines and resources market segments, the group focuses on services, machines and products in the soil and ground water sector.
KLEMM drills are known for their dynamic strength and ruggedness, making them reliable even under the most demanding environmental conditions. The company wanted to apply these high quality standards in operation and set out to find a solution that combined individual control options and reliability. KLEMM struck gold with the electronic J7 joysticks from elobau, a pioneering technology firm in the area of contactless sensors and operator controls for the most challenging environmental conditions.
"KLEMM is a global technology leader in the drilling technology sector. We are constantly working to further develop drilling technology. Conversion to electronic operation is an important step in increasing productivity in drilling applications and optimising the total cost of ownership (TCO)," explains Thomas Greß, Head of the Electronics Department at KLEMM.
Challenging environmental conditions
Many manufacturers of off-highway vehicles and construction machinery see the advantages of electronic control, but remain sceptical about how robust and reliable the technology is. KLEMM clearly demonstrates that the electronic operator controls can resist the toughest environmental conditions. The company's mobile drills are deployed around the world in the most challenging locations. When used outdoors, they are exposed to influences such as moisture, dust, shock, vibration and extreme temperature fluctuations, among other things. Reliability comes first at all times, as machine downtime can result in high costs and site locations are sometimes quite isolated.
"Our drills are designed for the toughest drilling conditions and are extremely reliable. Even the smallest parts are high quality, extremely robust and contribute to the performance of the drilling rig. This also applies to the joysticks. It was not difficult for us to opt for the J7 operator controls, as we'd already had positive experiences in the past with elobau joysticks when put to use in remote controls," explains Greß.
KLEMM alone offers 25 different types of drill types and almost every drilling application demands a unique solution. This means that even in the field of operation, there is a high demand for adaptation and options for individualisation. That's why the programming of the operator controls was a further key factor in the decision to swap to the electronic control of the drills, with the J7.
Individual control options
The operator controls used are the single-axis joysticks from the J7 series, designed for use in mobile machinery such as construction and earthmoving, as well as in agricultural and forestry machinery. They are used across the world by KLEMM to control mobile drilling rigs in specialist civil engineering and in other linked processes (up to 22 joysticks per drill!). The joysticks assume control of all drilling and set-up functions of the drill itself – for example, up, down, swivel and drill – at an electronic control station in the outdoor area. The space-saving design of the J7 makes it possible to position multiple joysticks next to each other. As a result, there is the option of double-lever operation for simultaneous control of different functions. Each of these requires precise and reliable control, and each joystick controls a different function, e.g., boom swivel.
The J7 is multifunctional and can be adjusted by KLEMM to suit specific applications through software programming. It enables cabins and control panels to be designed without the use of hydraulics. Furthermore, joysticks can be made unique by adding options such as friction brakes, overpressure points and no detent operation to perform a range of functions. Due to the demanding environmental conditions (e.g., electromagnetic compatibility), the joysticks are connected to the controller via analogue hard-wiring and communicate via an output signal with a voltage of 0.5 to 4.5 V DC.
Maximum durability
The J7 joysticks are designed for tough environmental conditions. Thanks to the IP67 protection class (electronics) and an operating temperature range from -40°C to +85°C, they are extremely robust and durable. They have been designed and tested for over 4 million cycles and are suitable for demanding outdoor use. The joysticks can tolerate mechanical forces of up to 1000 N in the x and y directions, even with jerky operation. Thanks to the contactless, shielded Hall technology, they are also extremely reliable in the harshest environmental conditions. With their unique properties, the single axis J7 joysticks are the most robust on the market in this size of 102 x 59 mm (L x W).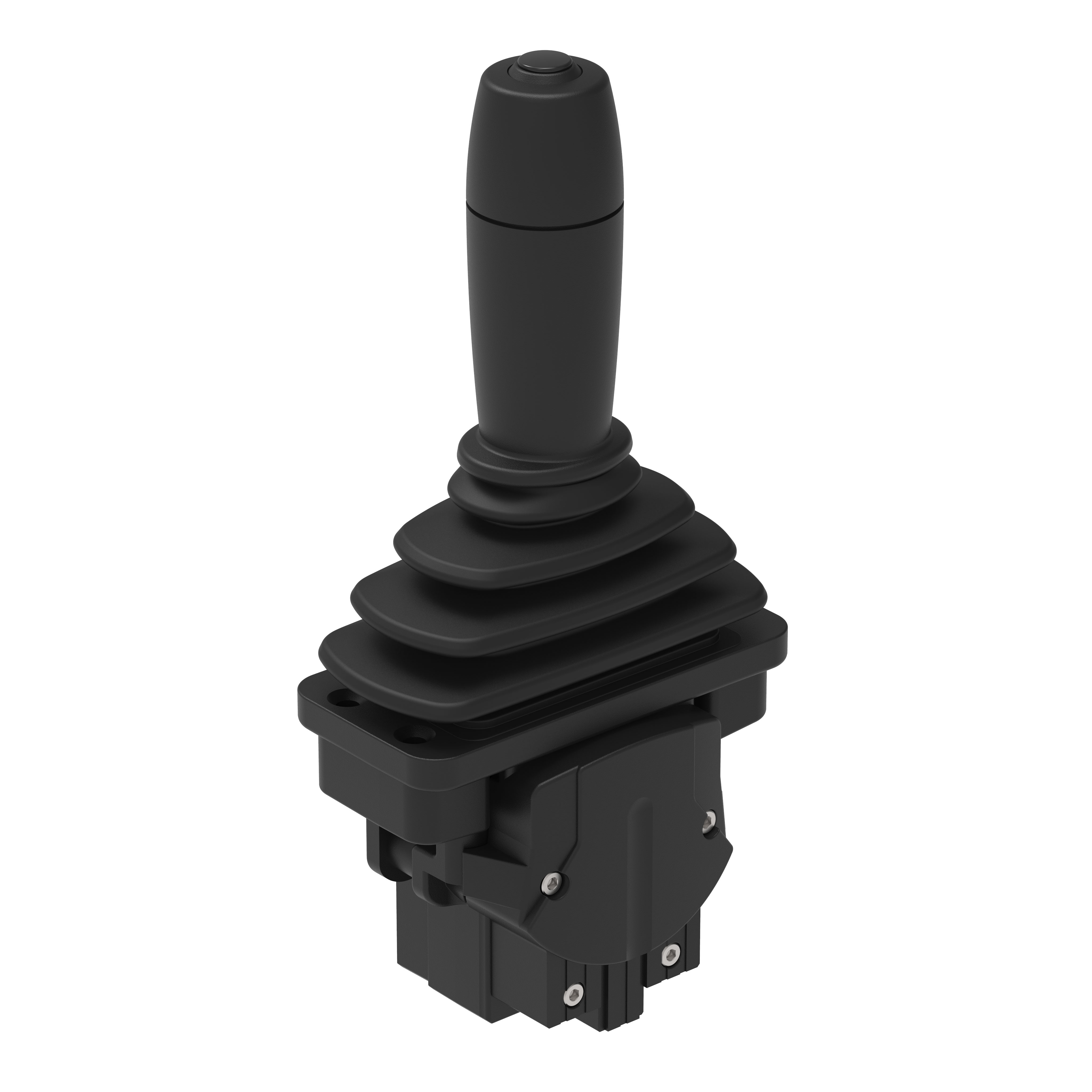 "The high IP protection class and the extreme mechanical load capacity were key aspects when it came to making a purchasing decision. That's because in the civil engineering market, where drills are in operation for 10-15 years and face really tough environmental conditions, durability and reliability are absolutely critical," explains Greß.
Additionally, the J7 joysticks meet the applicable standards for construction and earthmoving machinery and are maintenance-free. Their handles are ergonomically designed, developed for comfortable, low-fatigue operation.
The human-machine interface of the future
Electronic operator controls such as the J7 Joystick are part of the future when it comes to the operation of mobile construction and agricultural machinery. They simply save more space and offer more options for customisation than hydraulic operator controls. Their full strengths are shown when under heavy loads and in high frequency applications. The programmability of the joysticks has proven very advantageous to KLEMM in the highly unique special civil engineering market. At the same time, the electronic operator controls are extremely durable and can be used across the world in drilling applications, thanks to the approvals, even in the most challenging environmental conditions. In addition to all this, elobau has a great deal of technical expertise to offer.
"The technical consulting service impressed us. Even before purchasing, the interfaces had already been largely determined, and that was thanks to the close collaboration between the designers at KLEMM Bohrtechnik and elobau. As a result, the implementation of the final product was completed without problems," comments Greß, who was in charge of the project.
The new operating concept of the civil engineering drills combines a high degree of durability, safety and reliability in the smallest possible dimensions. This results in a high level of drill availability and productivity for end users. The joysticks are also maintenance-free. All this leads to a high degree of efficiency and lower life-cycle costs.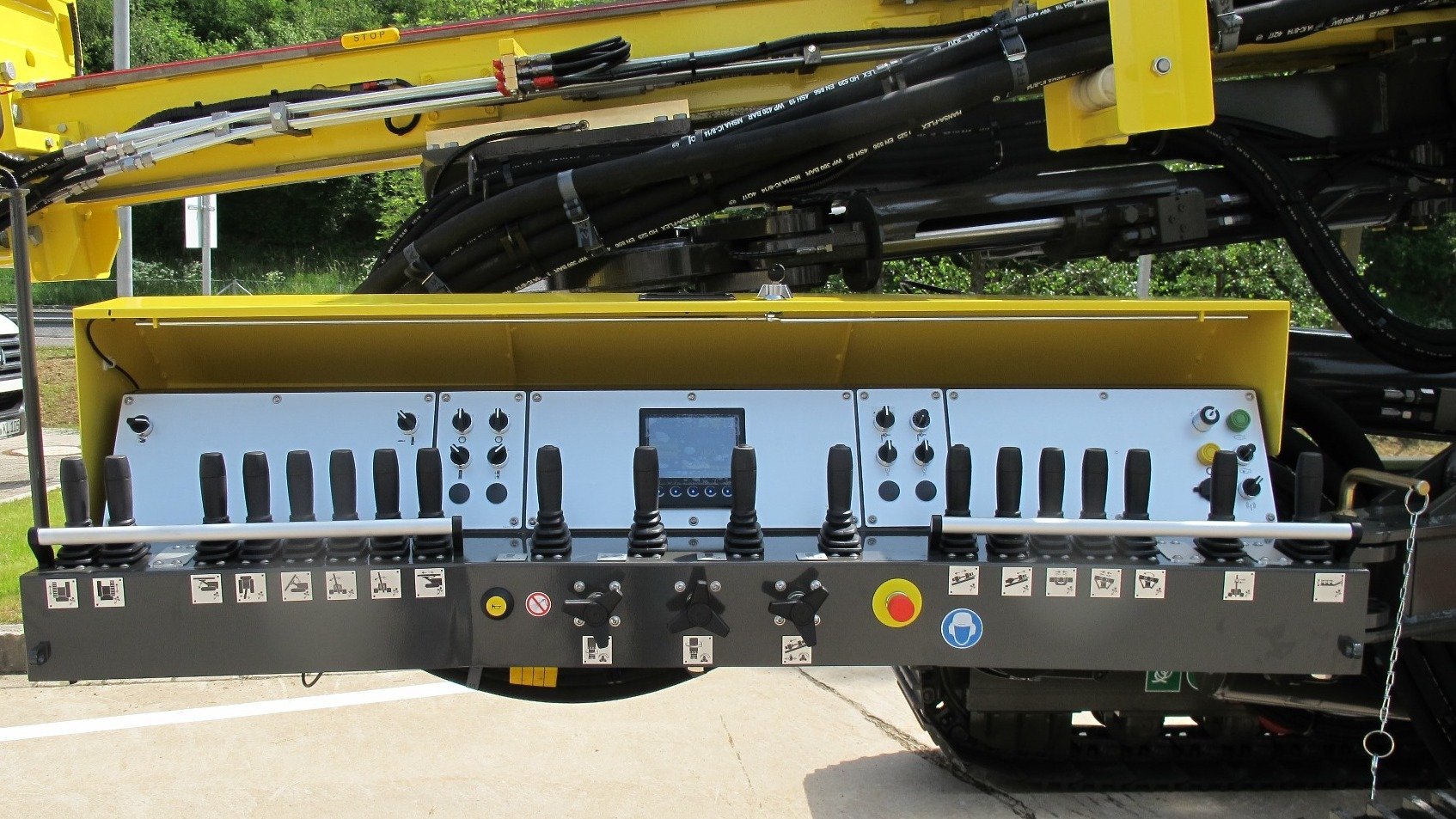 The space-saving J7 joysticks are arranged parallel to each other in the KLEMM drilling rig – here, the KR806-3G – so that two levers can be operated at the same time, with just one Hand.