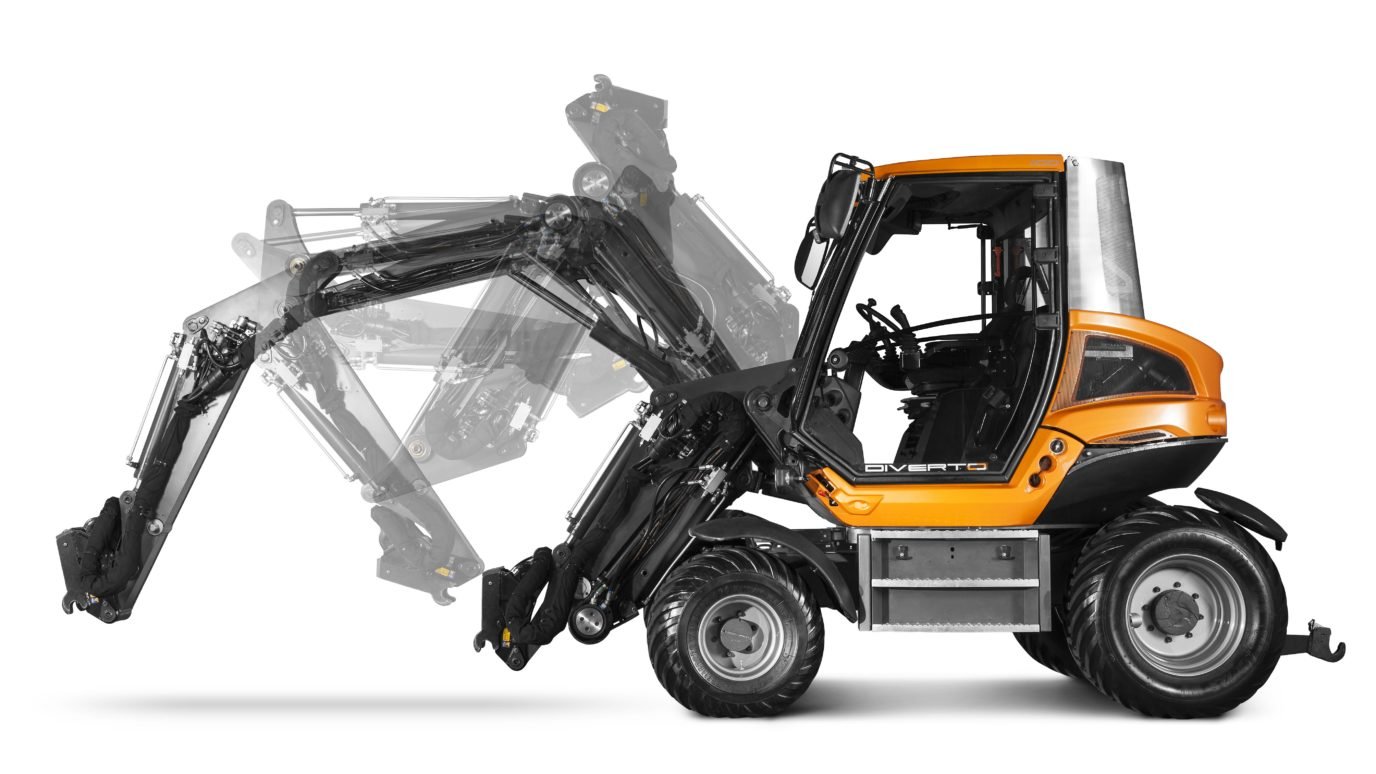 A customer's story: 'Super tool Carrier' optionally with wireless remote control
"Super tool Carrier"optionally with wireless remote control. Combine machines and put them to work!"
By Bart Driessen.
A nice spin-off of Dutch agricultural exports is the development of machines for the green sector. It is an enormous market, including contractors and landscapers, who use these machines for diverse purposes. For this type of company, Diverto in Goes has built a tractor that can be widely used, the Diverto QS100. Users can than choose, and use the QS100 as an excavator, wheel loader, tractor and mowing arm; And when required remotely.
The Netherlands may be number one worldwide as an exporter of agricultural products, there are not many Dutch tractors so far. Major international brands dominate the market, while we are seeing more and more companies on the roads that would like to work with tractors. Especially outside the agricultural sector, in the maintenance and construction of parks, excavation works in the construction industry or maintenance of nature-areas, tractors are indispensable. One problem, however, is that a lot of work is done with different machines. Most tractors are suitable for one kind of work. And certainly for the more small-scale assignments, the well-known tractors are simply too big. Consequently, companies in the green sector are stockpiling expensive machines that are used occasionally. That's a pity, because also unused machines cost money, don't make you money, and do not care for themselves.
Less standstill through integration machines
Managing Director of Diverto, Leonard Huissoon: "The situation at many companies and landscape-managers is that they still work with separate machines for mowing, digging, milling or transport. Piece by piece, machines that remain unused for many hours. From an economic point of view, a bad thing. We know that these types of machines are, on average, used for less than 700 working hours per year. Often shovels are transported separately on a trailer. Arriving at the job, the tractor and trailer, remain unemployed. If such a company can solve transport and actual task with a single machine, they can save a considerable amount of working hours. From this idea, we have developed the Diverto QS 100, a machine that combines different tools on one platform, making it more used."
Change in 1 minute
"The Diverto QS 100 cab is 360 degrees rotatable and can drive different tools on both the front and the rear. Converting the tractor function to that of a wheel loader does not take more than 1 minute. Pressing a button is sufficient. The conversion and connection of other tools such as the mower, digger and milling machine work at least as fast. In total, there are now nine different tools available for use in different seasons and activities. We have conducted several studies on the speed at which a Diverto QS 100 and a conventional machine-combination perform a complete task. This shows that the Diverto QS 100 does the same job in 45% less hours than the conventional machine.
CANbus and special components
"For the control of the electronics we have chosen a CANbus. This data-bus exists for over 30 years and has proven itself in a lot of vehicles and machines. One of the advantages of CANbus is the possibility of remote control. The driver can therefore leave the cab and operate the machine remotely. The use of CANbus for the Diverto QS 100 goes a long way. All sensors, controllers, displays, controls and actuators are connected to the bus. A very important part of the system are the controls in the cabin. For this particular part, we use customized elobau joysticks. We chose elobau because standard joysticks were not a solution for us. Some offer too few options and others do not meet other requirements. Via different paths and research, we found elobau. It is a German manufacturer, with a Dutch subsidiary, and active with special joysticks and other vehicle components. The beautiful thing in our partnership is that elobau wants to think and work with us.
Special solutions
For the Diverto QS 100 we need special solutions that no one else wants to offer, maybe also due to the fact that we still are a small company. That means they must also have patience with us. The fact that it is about small numbers for the time being is obviously a part of our case. But meanwhile, they believe in what we do and how we work. Christian van Os from elobau has often been with us for consultation and to exchange documents, drawings and samples. This has as a result; mutual trust and good cooperation with great solutions. We are now building a new elobau joystick in the cabin. It comes next to a control panel with pushbuttons and a corresponding display for a visual presentation of the process. The joystick is equipped with various features, with colors and symbols that allows the user to control various functions of the Diverto QS 100. In our armrest we also integrated Fingertip Joysticks from elobau. These are also provided with color coding and specific logos for optimal user convenience. Furthermore, we use pushbuttons of elobau, executed in specific colors and symbols. These push buttons include turning the cab and driving the car. An entirely different component is a Liquid Level sensor from elobau in our fuel tank, so you always know exactly how much diesel you have in the tank. This model is equipped with Feed & Return.
Better parts
Don't you suffer an additional cost increase with such special items? "It may be possible to find similar parts cheaper in other areas of the world. But we believe quality is more important than just price. Of course, the purchase price of reputable products is on a higher level, but in such a tractor you only want parts that are absolutely fault-free and have a long life span. The users we target, are also part of a segment that focuses on quality and availability, and so what we offer must be easily available as well. Therefore, we only work with components that belong to the top segment. For the hydraulic system we use, for example, pumps and valves of Parker Hannifin and Linde. The diesel engine is from John Deere. Of all our built-in components in the Diverto QS 100, 98% are European in origin. Nice to report is that no more than 1% of our parts come from Japan and 1% from America. The rest is European in origin. "
Development of new product
The development of a completely new machine takes a lot of time, perseverance and persuasiveness. How has it been developing the Diverto QS 100? Reinier Smallegange: "The Diverto QS 100 is definitely not developed in a curse and a sigh. The history of this supertool carrier dates back to 2004. In Leonard Huissoon's garage he worked, with his father, on a folding boom for a mini excavator. They used to work more often on all kinds of machines. Usually as a hobby, but often also seriously. The folding boom that they were working on back then, seemed to be exceptional. By making it into three parts, they created a very compact boom, but in expanded state with a range of six meters. The folding boom made such an impression that Huissoon immediately added a patent. Meanwhile, the enthusiasm about the mini excavator only increased. This inspired them to enroll the mini excavator in a number of innovation programs. As a result, a first prize, twice. Thanks to the amount of money that was associated with these prizes, the entrepreneurial blood started with father and son. Huissoon decided to have the machine tested by TU Delft in 2005. Result: The machine was too heavy and too strong! A new concept was thus developed. Not only lighter, but also as a supertool carrier. That is, a driving machine, suitable for more functions, such as mower, excavator, wheel loader, tractor and suitable for road transport. "
Development
A major set-back that many companies felt in 2008 and 2009 was the financial crisis in those years. Some restraint was in place, but in the meanwhile the development continued. With the result in 2010, the first operating supertool carrier. Although a basic model, built in collaboration with the company Herder in Middelburg, The Netherlands, but a machine that was able to perform four functions. To feel the response in the market, this model was shown at the Galabau exhibition in Nuremberg, Germany, an exhibition for landscaping. As a result, a price again; The medal for the best innovation. Meanwhile, the economy continued to fade and the emission requirements were further tightened. For Huissoon in itself no objection, but it meant an additional adjustment. In 2012, the next version of the Diverto QS 100 was shown at the Intermat in Paris. Although the Diverto QS 100 was shown without a motor, their booth attracted much interest.
RDW Admission and CE
After a few publications in magazines, some contracts were concluded with dealers who wanted to represent the supertool carrier. In the meantime, the Diverto QS 100 counted somewhat 26 patents. It was therefore time for a rather serious step: the certification according to the European directive on tractors and the admission by the Dutch RDW. The RDW in the Netherlands is the service provider in the mobility chain. The RDW has as its tasks; supervision and enforcement, registration, disclosure and issue of documents. Or easier put, determination if a vehicle is suitable for, and allowed on the Dutch roads. Passing this hurdle would mean that the machine would also be allowed for public traffic on the road at a speed of 40 kilometers per hour. This started a period of much consultation with the RDW. One of the problems was the question in which category this machine should actually be accommodated. With its speed of 40 km / h, 4-tons trailer and two-person cabin, there were some doubts. Ultimately, the Diverto QS 100 has been subjected to all kinds of tests on the RDW test-track. Operations such as brake force, steering gear, emission, noise and many more, have been investigated, tested and adjusted. But eventually, the RDW put the lights on green for the Diverto QS 100. Especially for the developers a great moment. A period of one and a half years of tension and waiting could be closed. How seriously this admission process is, is apparent from the accompanying documentation. The Diverto QS 100 now has a document that is somewhere between 750 and 1000 pages. After the entire process, the RDW's experts were thanked for their cooperation, in 2015, the first sale of five Diverto's were delivered to their new owners. A beautiful award in that year was the nomination for the Red Dot Design Award. Certainly a milestone, but no reason to take it easy. The work of a constructor is never completed. At the moment, the next version is already being used. In 2018, new guidelines will come into effect that also apply to this machine. In the next six months, twenty Diverto's will be delivered to customers in Germany, Luxembourg, Austria, France, Iceland and, of course, the Netherlands. Diverto expects production in 2018 of about one hundred machines. For the time being, the assembly of the steel section is carried out by a partner in Romania while assembling the components and electronics in Goes. During this year, Diverto will also launch a new production hall in Goes.