Focus on people
Our products protect people and enable the efficient, ergonomic and safe control of machinery. We are categorically opposed to military applications of our products. We take responsibility for our employees and society in general, and encourage other companies to follow our example. We promote the arts, education and sports locally, and sometimes even internationally. As a family-run foundation company, we enjoy a reliable and sustainable partnership with our employees. It is important to us to offer a healthy work environment in every way as well as a high level of job security. Our guiding principle for many years has been "Focus on people". Over the years we have implemented and supported many projects, details of some of which are below.
Attractive employer
We want to know
For several years now, we have been polling our employees (Great Place to Work®) in order to identify our company's weak points. This resulted in the creation of various employee committees who develop solutions. These groups are open to all interested employees and offer a real opportunity to help shape our company.
Work life balance
There are various work time models on offer to our employees so they can strike the right work life balance. We also offer lifetime working accounts for our employees for combined family and job phases: working hours can either be accrued or used, depending entirely on the individual situation (ie if family members need support). Temporary home office working is also an additional flexible working option.
Examples of employee benefits
Net pay optimisation through salary conversion
Established occupational health management programme
"Ride a bike" bicycle leasing scheme
Free social counselling
Childcare support
Financial support for urban childcare.
In-house childcare during summer holidays
Since 2011 we have been running a week long technology camp for employee's children aged between 8 and 12. The children get the opportunity to complete technical projects with the guidance of our trainees, and also get to visit their parents in their workplace.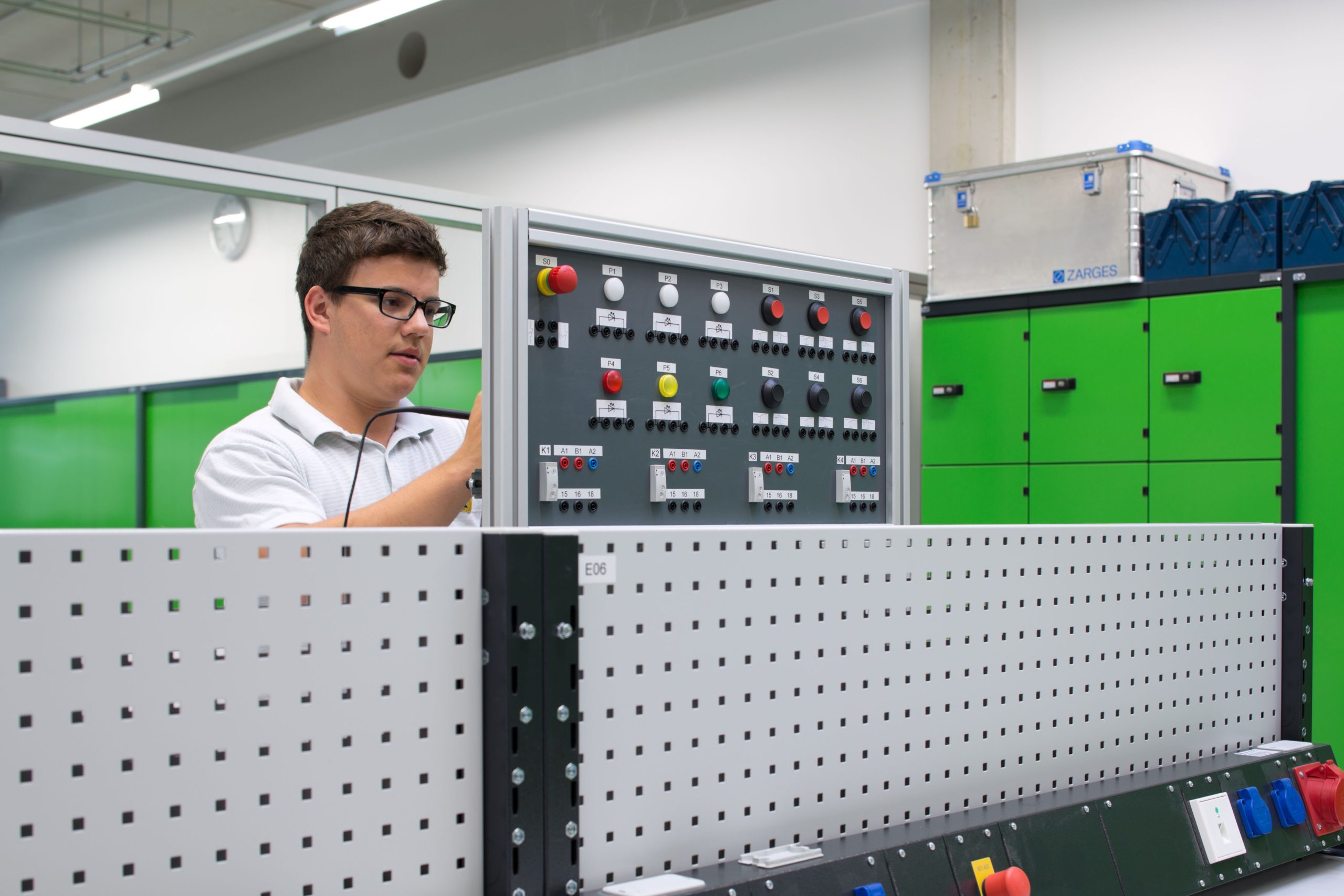 We understand the importance of education
School leavers who choose to train at elobau can select from eight different training schemes on offer. Currently, there are around 40 trainees at elobau. Our training workshop was expanded in 2012 to cater for an improved training programme and offers state of the art facilities. Students who are interested in training at elobau can find out more or experience taster sessions by taking part in internships and attending open house days. We have links with various schools in the region through educational partnerships. Some of the many projects we have supported financially, include "School on stage", conversion of the Leutkircher Gymnasium or the school social work in Isny.
Over the years, we have developed a range of educational partnerships:
Local schools
Universities (Zeppelin University, HS Ravensburg-Weingarten, HS Kempten, Ulm University)
Educational institutions
Workshop for people with disabilities
Sponsorship of the Deutschlandstipendium
Continuing education
eloLearn, our in-house training platform hosts a variety of study options in technology, IT, languages and leisure.
Social responsibility
Sozialfonds Allgäu e.V. & elobau community assistance group
Sozialfonds Allgäu e.V. was started in 2009 to provide fast and easy support to people in financial need. Requests for assistance are reviewed by a panel of 8 people who also serve as a point of contact for enquiries. Sozialfonds receive external applications via our volunteer staff from the social sector.
elobau community assistance group
The elobau community assistance group is an employee initiative. It plans and holds two large charity events each year. The proceeds of these events are primarily used to support children and young people from socially deprived families, as well as other charitable projects in the area, such as Leutkircher Tafel, magita e.V. and two local hospices.
Culture and sport sponsorship
Because elobau feels a close connection to the local area, we proudly support local associations, projects and institutions. For many years we have supported the Leutkirch festival as well Larifari e.V. and the Leutkirch cineclub, as well as the Isnyer Theaterfestival and "Talk im Bock". We also support FC Leutkirch, Leutkircher Puckstiere and DLRG Leutkirch, amongst other clubs.