225MA midi modular armrest
Customised as standard
with the new modular armrest 225MA, elobau sets a new standard on the world market. This premium product opens up entirely new possibilities for all manufacturers of mobile machines who are no longer satisfied with their existing operator controls.
Elaborately developed and intensively tested operating elements, which have been meeting the expectations of demanding customers for years, can now be combined in a modular operating system.
From the wide range of elobau products you can choose exactly those control elements according to the modular principle with which you can control your vehicle functions in the best possible way. The motto is: plug-​and-play – concentrate your energy on vehicle construction – we take care of the operation. Your modular backrest is completely configured to your needs and requirements, so that you only have to connect the armrest to your vehicle via the standardized CAN protocol SAE J1939 and industry-​standard plug connections.
Always in control: the operating system that adapts to your machine
Joysticks & hand throttle module
1

Heavy duty joystick and multifunction handle

The heavy duty joystick is available with various mechanical modules. Whether you choose no-detent / detent, with friction brake, and whether single or dual-axis – with this joystick you can optimally perform all of your machine functions.

The ergonomic design of the joystick handle is specially shaped for the right hand to enable fatigue-free operation. The push buttons and thumbwheel switches are provided with night illumination. The buttons are available in various colours and with different symbols; and the thumbwheel switches also come in a range of colours. This ensures efficient and reliable operation of all machine functions.

A capacitive presence detection system to prevent unintentional actuation is also optionally available with this joystick. The two channel design of the analogue signals, combined with the Namur wiring of the push buttons, means safety level AgPL c is achieved. The installed electronics are extremely durable, thanks to the Hall sensor technology used for the joysticks, thumbwheel switches and push buttons.

The combination of heavy duty joystick and multifunction handle is ideally suited for performing driving functions.

+ Learn more - Close

2

Compact joystick with new handle

The newly designed multifunction handle also enables fatigue-free operation and is a unique combination of function and ergonomics.

It can be configured with up to six push buttons or with four push buttons and one thumbwheel switch, and ensures the precise operation of front-end loader and other hydraulic functions. All the operating elements can of course be individually configured with this joystick as well, and also offers the safety level AgPL c.

+ Learn more - Close

3

Hand throttle

The hand throttle is designed for controlling the engine speed. The inlay in the top cover is available with a choice of symbols for clearly marking the function. Alternatively, three nano push buttons could be installed instead of the hand throttle.
Operating unit module
1

Push buttons

The push buttons can be assigned to functions such as all-wheel drive or differential lock as required. Thanks to Hall sensor technology, the push buttons are extremely durable.

The button inlays are available in various colours and with abrasion-resistant, backprinted symbols as well as with function and night illumination.

+ Learn more - Close

2

Encoders

The encoder push button module is ideally suited for navigating the display control menu.

3

PTOs

Power take-off push button for safely switching the PTO shaft on and off.

The PTO shaft can only be switched on by intentionally unlocking the push button. It is available with function and night illumination as well as with clear, standard-conforming symbols.

+ Learn more - Close

4

Fingertip joysticks

The fingertip joysticks have been designed with angled actuators and a soft touch finger rest for maximum operating comfort and user-friendliness.

The actuator caps are colour codeable and with a choice of symbols to clearly indicate function. The fingertip joysticks are ideal for operating hydraulic controlling devices.

+ Learn more - Close

5

Flat operating unit module

The modular design of the armrest allows the use of a wide range of module inserts.

For example, an alternative, flat module insert with four additional shafts for push-button modules can be used instead of the four fingertip joysticks.

+ Learn more - Close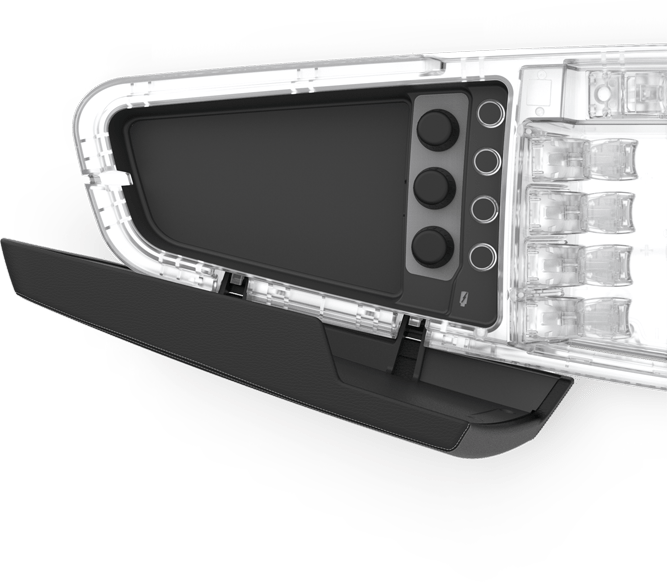 1
2
Armrest & storage compartment module
1

Armrest

The armrest is padded for the comfort of the operator, but as it is covered with organically produced high quality apple leather, it is also sustainable and environmentally friendly. It is as durable and hard wearing as chemically produced cover materials, but is also free of harmful plasticisers.

2

Storage compartment under the armrest

The storage compartment contains even more operating elements for additional functions.

Up to four additional push buttons and up to three additional potentiometers are available as well as a USB socket for charging smartphones. The rear end of the storage compartment is provided with a cable opening to allow a smartphone to be positioned in a holder in the operator's field of view and charged simultaneously.

+ Learn more - Close
Hitchwheel & potentiometer module
1

Hitchwheel

The hitchwheel is used, e.g., to adjust the working depth of the rear hydraulics (electronic lift control) or similar functions. The inlays are available for clear labelling of the functions with standardised symbols.

2

Hitchwheel potentiometer

An additional potentiometer can be used, e.g., for the position and tension control of attachments, such as a plough.
Connection field module
1

Connector connection

Convenient and direct connection via connectors integrated in the housing. The signals of all operating elements are collected as standard on the motherboard in the armrest and are communicated to the outside via CAN bus using a 6-pole Tyco Junior Power Timer.

The armrest can be equipped with two additional connectors of the same type. These are a 12-pole and a 15-pole connector. Output signals, such as the driving function or the PTO function, can then optionally be wired directly to the outside.

+ Learn more - Close
Technical drawing
Attribute
Polarity reversal protection
EMC immunity (Norm)
EMC emission (Norm)
Operating voltage min.
Operating voltage max.
Current consumption
Short-circuit resistance to GND
Short-circuit resistance to supply
Fieldbus system
Protocol
Node ID / Source Address
Transmitting cycle
Bus terminating resistor
Baud rate
Attribute
225MA...
Bestellung
Polarity reversal protection
yes
EMC immunity (Norm)
EN ISO 14982:2009
EMC emission (Norm)
EN ISO 14982:2009
Operating voltage min.
9 V DC
Operating voltage max.
33 V DC
Current consumption
5000 mA
Short-circuit resistance to GND
yes
Short-circuit resistance to supply
no
Fieldbus system
CAN
Protocol
J1939
Node ID / Source Address
Variable/adjustable
Transmitting cycle
Variable/adjustable ms
Bus terminating resistor
no
Baud rate
250
500 kBaud
| Attribute | 225MA... |
| --- | --- |
| Bestellung | |
| Housing colour | Upper shell Black grey RAL7021, lower shell Mouse grey RAL7005 |
Attribute
Housing material
| Attribute | 225MA... |
| --- | --- |
| Bestellung | |
| Housing material | PA610GF30 |
Attribute
Protection class, mechanical
Protection class, electronic
Operating temperature min.
Max. operating temperature
Min. storage temperature
Max. storage temperature
| Attribute | 225MA... |
| --- | --- |
| Bestellung | |
| Protection class, mechanical | IP44 ISO 20653 |
| Protection class, electronic | IP53 ISO 20653 |
| Operating temperature min. | -25 °C |
| Max. operating temperature | 85 °C |
| Min. storage temperature | -40 °C |
| Max. storage temperature | 85 °C |
Attribute
Mounting type
Thread
| Attribute | 225MA... |
| --- | --- |
| Bestellung | |
| Mounting type | screwed |
| Thread | M6 |
| Attribute | 225MA... |
| --- | --- |
| Bestellung | |
| Connector type | AMP Junior Power Timer |
Start your project with elobau now!
Consultants are available worldwide to answer your questions. In close cooperation with you, we develop operating solutions tailored precisely to your vehicle or machine and manufacture them in small or large series.
Customer reviews
Product has been added to watchlist.
Data security and the limitation of data collection are very important to us. Further information on this can be found in our
data privacy policy
.
I agree that elobau GmbH & Co.KG and the
subsidiaries group
may contact me by e-mail or telephone. This can be revoked at any time by sending an e-mail message to
datenschutz@elobau.de
. The data provided are electronically transmitted by elobau GmbH & Co KG or to its subsidiaries, stored in the internal e-mail system and processed for offers and consultation. While the data may be stored by the provider under certain circumstances, it is handled in compliance with data protection regulations and subsequently deleted. Furthermore, the data remains with elobau group and is not disclosed to third parties, unless the inquiry is made from without the countries in which the companies are located, and disclosing the data to one of our trading partners is required in order to process the inquiry. I am aware that this may be a country outside the EU. I agree to this by the submission of this form.
The data sent will only be processed for the purpose of processing your inquiry. The data will be deleted as soon as it is no longer required for its original purpose. You can withdraw your consent at any time without providing a reason at:
datenschutz@elobau.de
. There are no adverse consequences. You have a right to information, deletion and restriction of the processing of your personal data.
All entries marked with a * are mandatory.