Ultrasonic sensors in the "Blue Battery"
Sensor technology usually a very small part of any application often makes the difference in many applications. For example in the Blue Battery from AquaBattery.
Sensor technology usually a very small part of any application often makes the difference in many applications. For example in the Blue Battery from AquaBattery; an electrical energy storage system that uses membrane technology, water and kitchen salt. To measure the level of the liquids in the different tanks, tests were carried out in their workshop with using the ultrasonic sensors from elobau. Robust measuring elements with the correct IP class, desired accuracy, measuring range and the ability to read out by the relevant controller.
A few years ago AquaBattery was founded by five young men who had specific ideas about a cheap but effective way to store electrical energy. An important theme at a time when there is a risk of a surplus of energy as a result of over-production of PV panels and supplying back is not always possible or lucrative (anymore).
Pilot in "The Green Village"
There are many options for storing energy, of which the regular "battery" – which works with lead or lithium cells – is the best known. A major disadvantage of these type of batteries  is that the materials used are partly toxic,  expensive and flammable, up to the risk of explosion. How can this be changed?
With everyone having a background in the theme "water", the solution for Blue Battery was to store energy by making use of the potential difference that exists between salt and fresh water. "The technology for producing electricity by allowing salt and fresh water to flow past membranes is already known from the 1960s," says COO Emil Goosen. "However, by reversing the principle, it is also possible to save energy with the same membrane technology, and that is exactly what happens in our Blue Battery. A system that consists of two or three tanks combined with pipework, pumps and the membrane sets. The control determines. Based on the conductivity of the media, the level in the tanks and the pressure which liquids have to flow in which direction in order to charge the battery or to discharge it as desired."
Many tests have been carried out in our own workshop in Leiderdorp with membrane packages and capacities up to approximately 1 kW. This resulted in a setup which will be tested in a first pilot in "the Green Village" in Delft. Emil Goosen: "This project was mainly carried out within the framework of" scaling up". An important step because such a pilot must show that the successful operation on a laboratory scale also works well and reliably in larger systems. This first pilot uses 10 cubic meters of fresh water, spread over different tanks. At this point everything is working  to satisfaction leading to the start of a second and third pilot where we are moving to even  larger capacities."
Level measurement
In order to measure the level in the tanks, experiments were initially conducted with capacitive sensors. However, these were not accurate enough and, more importantly, gave too many fluctuations. At the Aquavak fair in March 2018, elobau was introduced to the project of AquaBattery and  proposed to use ultrasonic sensors.
Ultrasonic sensors
This type of sensor include both a transmitter that produces ultrasonic sound and a receiver that recovers the reflected sound. Based on the time it takes for the sound to return, the sensor determines the distance to the object or surface to be detected. In addition to the fact that this is always a non-contact measurement, ultrasonic sensors detect independent to shape and color.  This means that they also detect specular and transparent objects or surfaces as well as smooth or very raw variants. This makes ultrasonic sensors suitable for a wide range of applications and certainly for the Blue Battery.
Gerard van de Griendt, sales manager industrial applications at elobau: "The innovative AquaBattery has experimented with various ultrasonic sensors which we provided samples of. After tests had shown that ultrasonic measurement was indeed suitable for this application, we looked at the best suited variant of the selected sensor. For example, the choice consists of a plastic and stainless steel and housing and we had to find out whether a long or short version would suit best. In addition, the degree of protection is important as well as the resistance to salt water, and of course the measuring range. Emil Goosen adds: "The reading of the sensors, based on which for example  the pumps are controlled,  is done via our own written software and industrialized PLCs. These are easy to program and robust enough for use in industrial applications."
Safe system
With the final design of the Blue Battery, end users are not only assured of efficient and guaranteed storage of electrical energy, but also benefit from a product that is safe for people and the environment. After all, leakage of the liquids does not present any risk so that this battery can also be transported without problems and extra permits needed. Furthermore, "overcharging" of the batteries is not possible and charging and discharging has no influence on the life of the battery.
Second pilot
In follow up of the successful pilot in Delft, a larger set-up in Gorinchem is being worked on now. In this set up the double amount of fresh water  is used(20 cubic meters)  distributed among different tanks that are connected. The ultimate goal is to arrive at a total system of 2,000 cubic meters. Emil Goosen: "The system in Gorinchem is housed in a sea container where the assembly of components has now started. This should be ready around the end of March. In this pilot the ultrasonic sensor of elobau is not used because the choice was made to use a number of smaller tanks with integrated sensors. However, these sensors only indicate full or empty. In the final application, we do want to use the sensors that we have selected in consultation with elobau."
I assume that this will happen in the third pilot, but for this we also depend on other partners who work with us in the context of an H2020 project. On the other hand, it is simply the best solution, because then we again change to a larger system with larger and higher tanks. The required sensors must then have a sufficiently large measuring range and an accuracy of around 0.1%; and that is one of the big benefits of the ultrasonic sensors  previously selected."
Ultrasonic sensor UC18PIC-220S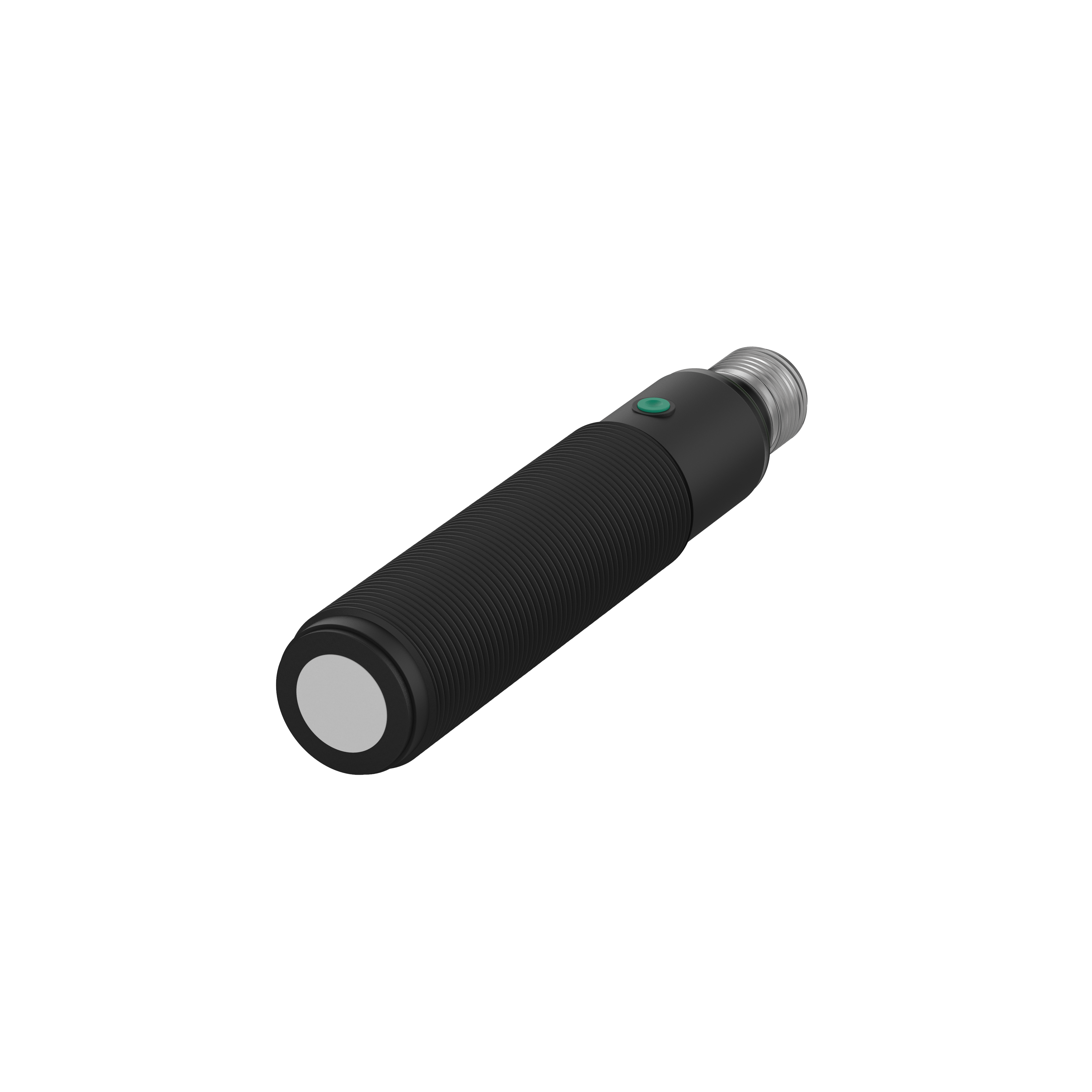 The ultrasonic sensors that AquaBattery selected for its "BlueBattery" are in the elobau catalog under the name "UC18PIC-220S". This is a plastic (PBT) sensor with an M18 external thread and a measuring range of 200 – 2,200 mm. In addition to an analog 4 – 20 mA output, this ultrasonic sensor is also equipped with a push-pull output. Due to the relatively large measuring range, this variant is suitable for the larger tanks planned for the third pilot. The plastic housing also makes the sensor ideal for use in tanks with salt water; this in contrast to stainless steel versions that were initially chosen.