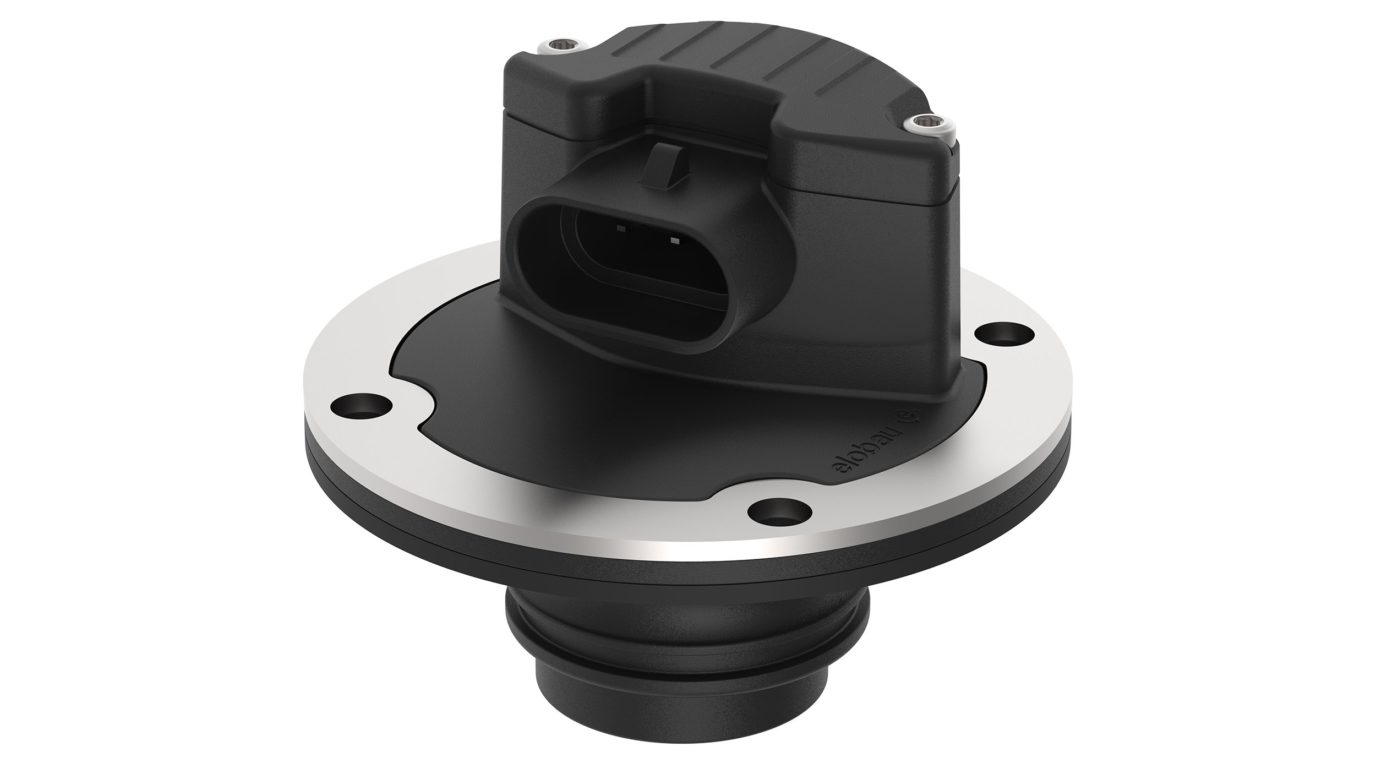 Ultrasonic fuel level sensor
Wear-free level measurement in the vehicle tank
In the future, fluid levels of vehicle tanks in agricultural and construction machinery can be monitored contact- and wear-free with the new 2UF ultrasonic fuel level sensor from elobau. Because elobau is expanding its level measurement product line in the area of fuel level sensors for off-highway vehicles with a fuel level sensor with analogue output signal based on ultrasonic technology.
The measuring principle: maintenance-free and precise
The ultrasonic pulses are generated and emitted in the head of the sensor. These are reflected by the surface of the fluid and return back to the sensor. By measuring the propagating time, the current fluid level is calculated and output as a current or voltage signal. The forthcoming requirements for more exact and analogue level measurement of diesel fuels are hereby taken into account. The wear-free measurement principle satisfies the call of the agricultural and construction machinery manufacturers for maintenance-free components. The contact-free measurement principle prevents continuous contact with the medium to be measured. Nevertheless, the sensor is designed for long-lasting resistance to diesel fuels, especially biodiesel. It measures the surface of the fuel with a resolution of up to one millimetre over a measurement range of up to 1.2 m. Extreme temperature ranges from -40°C to +105°C facilitate use in vehicles that are exposed to the harshest environmental conditions. The corresponding temperature drift is removed and adjusted via the electronics integrated in the sensor. Because the medium in the tank is constantly in motion in mobile applications, wave movements or sloshing caused by reflections at the tank wall are eliminated through damping and do not directly affect the measurement result. For special application cases, the individual parameters can be specifically adapted by elobau. An optional focus tube made of diesel-resistant plastic focuses the ultrasonic waves and stabilises the measurement range if positioned at an incline or if there is sloshing around in the fuel tank.
Many connection options
The tank connection is realized via a 4-hole flange. For sealing the tank, elobau offers a flat seal or O-ring seal. Here, we incorporate our years of experience in vehicle development, as many plastic parts tend to swell, especially if exposed to biodiesel.
Sid A Hausding

8/9/2021 14:55 o'clock

Kool, now where do I go to buy one? What fuel gauges and what requirements are needed? Where are the mounting instructions to see if this will even work on my application? Does this come with a wiring harness.......

I will be using it in a moving vehicle on one 10 gallon gas/oil mix tank. Thank you,

Sid Alpena, Michigan 49707 USA