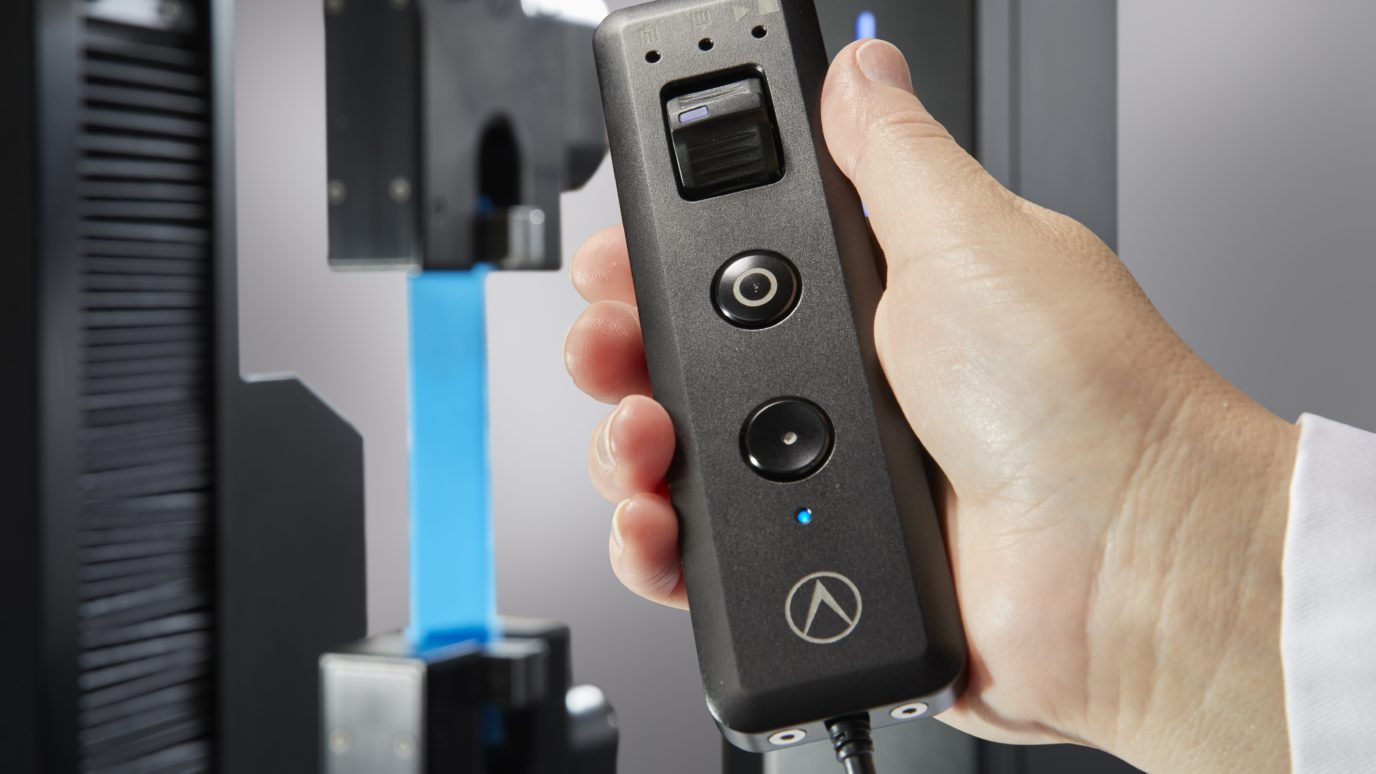 Accurate and Ergonomic Machine Control
James Heal is an international engineering company specialising in the design and production of Testing Instruments and Test Materials. Established in 1872 to serve the local woollen textile industry, it has evolved into one of the worldwide leading suppliers of user-intuitive and innovative solutions in the industry.
Their new Titan 10 is a universal strength tester which has a 10kN capacity to test a diverse range of applications, from apparel and non-wovens, to rubber and non-textile materials. The new dual column design has increased the capacity from 5kN to 10kN, and is ideal for a range of testing and applications.
With a worldwide reputation for delivering reliable, high quality and innovative materials testing solutions, when it came to choosing the component suppliers for the Titan 10, their products had to go through rigorous testing to ensure they met the same demanding standards. One of the features of the Titan 10 is a hand controller which allows manual testing. Designed to be one of the simplest and easiest to use on the market, the operator controls had to be carefully selected and elobau UK were contacted and consulted for assistance on choosing the right products. After carefully considering the design and requirements needed, elobau's 175DT thumbwheel was rigorously tested and chosen.
The thumbwheel is used to accurately control the cross head of the Titan 10. It allows the user to safely jog the cross head into position. As well as being highly reliable and accurate, the thumbwheel had to meet the same standards for quality and style that James Heal are known for. With a similar reputation for innovatively designed and reliable products, the ergonomically designed thumbwheel from elobau was both aesthetically pleasing and tactile. The elobau thumbwheel was the only contender. It had a quality feel about its action that could not be met by other suppliers said Ellis Banton-Place, Innovations Manager at James Heal.
Through the innovative application of its products, elobau helps customers build machinery that sets industry standards for performance, ease of use, reliability and safety.
For more information on the Titan 10 please visit: https://www.james-heal.co.uk/instrument/titan/
If you would like any more information on the 175DT thumbwheel, or any other products in elobau's machine safety, level measurement, sensor or operator controls product portfolio, please contact elobau UK:
Thumbwheel 175DT: https://www.elobau.com/en/products/operator-controls/operate-control/thumbwheels/thumbwheel-175dt/
Tel: 0161 974 3250
Email: uk-sales@elobau.com